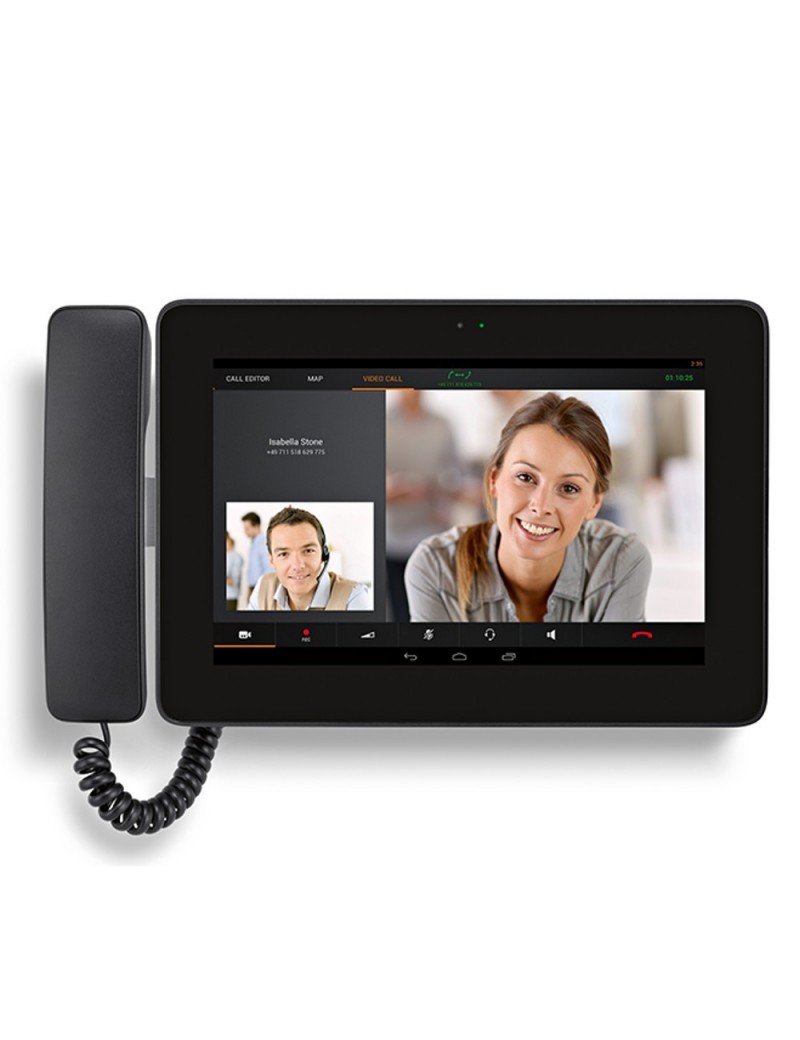  
Gigaset Maxwell 10
Evolution de la communication professionnelle.
Conseils pro au 01 77 10 26 45

Essai gratuit 14 jours - Satisfait ou remboursé

Livraison Express sous 48/72h - Offerte à partir de 400€ HT d'achat
Display
10.1'' HD Touch screen
Aspect ratio 16:10
1280 by 800 resolution at 145 pixels per inch
Screen and housing
The handset location is flexible: left or right side.
Operation in handsfree mode only is possible as well: so no handset needed.
Operating system
Running on Jelly Bean - Android 4.2.2
The layer over the OS is customized towards the Gigaset pro phoning fuctionality.
As OS, Android is running without limitation. It's completely open including access to the Play Store.
Handsets, Headsets and Handsfree
Cordless DECT Headset and Handset
USB Headset and speaker
Wired Handset via RJ9
Handsets in different shades
EHS and DHSG via RJ45
Headset from other vendors can be connected via Bluetooth and wired via RJ9
Built-in handsfree mode is available via phone and audio apps
Camera, video and audio
Maxwell HD Camera on the top front - with status LED
1.2MP photos
720p HD video
Video calling over WiFi or LAN
Status LED
2-way video conferences in HD (720p) quality
Maxwell HD Audio with sound reflection via the foot for the optimum surround effect
2 tweeters at the front
1 bass speaker at the back
Playback of music via the music apps or services in different surround modes
Conference speaker functionality in handsfree mode
Connectivity
Wi-Fi for a wireless connection in the network, supporting 802.11b/g/n
Bluetooth 4.0 technology for keyboard, mouse and headset
DECT standard with HD audio for the handset and headset
LAN to connect the Maxwell to the network, supporting PoE
Network Switch to give access to a computer via the same network connection
Micro HDMI to connect a monitor, projector or TV
2 USB 2.0 ports to expand memory or connectivity to external devices
RJ45 for EHS and DHSG
Micro SD Card slot for local storage
Expandability
Mouse
Keyboard
Corded and cordless handset
Corded, Bluetooth, DECT and USB headsets
External USB Camera up to 1080p
Micro SD card (up to 32GB)
External display via HDMI
USB flash drive
Maintenance
As it's a Gigaset pro phone, the Maxwell has its own URL for configuration of the phone.
Network settings and personal configuration can be done via the URL-homepage of the phone.
Autoprovisioning is supported to many providers on SIP and other standards
System languages 
Europe
Bulgarian, Catalan, Croatian, Czech, Danish, Dutch, English (UK), Estonian, Finnish, French (France), German, Greek, Hungarian, Italian, Latvian, Lithuanian, Norwegian, Polish, Portuguese (Portugal), Romanian, Russian, Serbian, Slovak, Slovenian, Spanish (Spain), Swedish, Turkish, Ukrainian 
North America
English (US), French (Canada) 
South America
Portuguese (Brazil), Spanish (Latin America) 
Asia
Chinese (PRC), Chinese (Taiwan), Filipino, Hindi, Indonesian, Japanese, Korean, Malay, Thai 
In the box
Maxwell wireless set
Maxwell screen
Foot
DECT handset
Ethernet cable
Netadapter
Maxwell wired set
Maxwell screen
Foot
Handset plus cable
Ethernet cable
Netadapter
Maxwell Screen: Maxwell screen, ethernet cable and netadapter
Foot: Metal foot, all screws and accessories
Wall Mount Kit: Metal Wall bracket, all screws and accessories
DECT Handset: Handset, handset cover and battery
Wired handset: Handset, handset cover and cable